What You Can Get With Your Home Security Company
Home security systems are gaining more popularity every day. Much of this has to do with it becoming more affordable. Technology continues to move forward, and new items are continuously coming out. You may be one who has decided to install a new security system in your home. If you have an older model, it is time for an upgrade. The following items can familiarize you with what is out there. 
Basic Home Security Systems
Everyone has different situations and needs, so it is up to you to examine your home and see where it may need the safeguards. If you can't decide where to start, you can give the experts at Allied Home Security a call for some assistance. Here are a few items to be aware of for your list.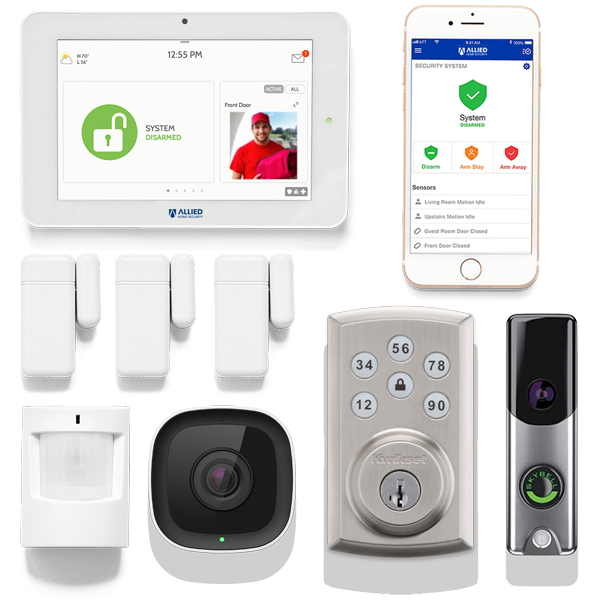 Motion sensors– These pet-friendly sensors will pick up activity in your home while you are away and alert you via your smartphone. 
Door and Window Contacts– If the movement of a door or window opening occurs, the alarm is triggered.
Video Doorbell– This doorbell allows you to see and speak with whoever is on your doorstep. The motion activation will alert you, even if they don't ring the bell. 
Indoor and outdoor Cameras- Be able to view live-streaming videos to check on the activity in your home when you are not there. You can also keep an eye on your property outside your home. The home security cameras are equipped for night vision as well. 
24/7 Digital Video Recording– When motion activates your camera, it is recorded and stored for your playback and review at another time. 
7″ Touchscreen Alarm Panel- All of your security devices can be monitored and controlled with this hub. 
Smartphone App- Control all your home security devices and more with the app at your fingertips. 
24/7 Live Monitoring- Allied uses the best Brinks monitoring stations to keep an eye on your home, even when you aren't able to.
Smart Home Security & Automation
After you have bundled up your base security devices, you may consider adding on a few extras. Many everyday items are now able to be in your control through your security panel or smartphone. Not only are they part of your safety list, they are items of convenience now. 
Smart Doorlock– A keyless entry pad can assign different codes, so you will know who is coming and going through the front door. You can even use your smartphone to unlock the door for an unexpected guest that arrives early. 
Smart Thermostat- Your smartphone app can be used to control your thermostat to turn it off and on while you are away. 
Smoke Detector– You and your monitoring company will be immediately alerted to the detection of smoke or fire in your home. 
Key Fob– You can switch between your home status or away with a simple click. 
Making Your Home Smart and Convenient
In today's world, it's not just a matter of keeping up with technology or the latest fads, Allied Security wants to keep you safe. Call us today and let us assist you with your security plan. Don't underestimate what is going on around you. Keep your family safe!