Austin (TX) Smart Home Security Systems & Video Surveillance
Alarm Monitoring Starts at Just $19.95

/mo
Thank You, Customers, For Making Allied the Highest-Rated Company in Texas!
Home Security Systems
Best Austin Alarm Company
Allied provides our customers with the best Austin home security systems and home alarm monitoring. Not only do we offer alarms and camera installations for homes, but also small business and commercial properties as well. Most importantly, our security packages include police, medical, and fire alarm monitoring. You will also find smart home automation devices to add to your home alarm system. Make it a package of convenience and safety. 
Alarm monitoring starts at $19.95 with a price match guarantee. Call us today and speak with one of our specialists. Our customer service is unrivaled. Since we are a local company, we can give you same day setup for FREE.

TODAY ONLY!
FREE 4 CAMERA DVR*
INCLUDES APP ACCESS
Professional Grade Security Cameras
REAL SECURITY
BETTER EQUIPMENT
At Allied, we make sure to bring you only the best video quality in our home security cameras. These high-tech cameras are commercial-grade and we also offer free installation on new monitored video surveillance systems. They make sure your home is protected 24/7.  Get an alert on your smartphone where there is activity detected nearby. For example, delivery at your front door or the power company walking around to read your meter. View the recorded video or turn on a live stream to check on the family. 
Allied Home Security of Austin offers several video plans to choose from. You can trust us to find just what you need. We can customize your package to fit your budget. Be sure to check out the Daily Online Special! 
Austin Smart Home Security Systems
SMARTEST HOME ON THE BLOCK
Call us today to customize your very own smart home security system. With our app, you never need to worry about if you locked the front door or not. Apply geo-fencing rules for automated notifications and alerts. Manage a security device, alarm, locks, thermostats, garage doors and more with your smartphone app. Your house will never look empty with scheduled light automation. 
Our team will work with you to customize a smart home security system that fits your lifestyle, all within your budget. Have complete control and peace-of-mind even when you're away.
FREE CAMERA & ALARM INSTALLATION
Edge Panel with Built-in Alarm Monitoring
THE ALLIED SMART HOME HUB
The Edge Panel is the latest when it comes to innovation in the home security industry. With this equipment upgrade, you can monitor, control & protect your home wirelessly and safely. It's smash & crash proof and hack-proof giving you complete peace of mind. This hub also integrates with most smart home devices like your Alexa or Google Home hub. You can also view your cameras and answer the front door all from the hub.
Activate, Upgrade or Build Your Alarm System
System Packages Start at Just $19.95/mo with $0 Upfront.
Allied offers a variety of different security systems in Austin. These are available for you to customize to fit your home or business needs. Every location is different, so we try to offer alarm systems that will protect your unique situation. Once you choose one of our equipment packages, you have the option to add on available smart home devices. A connected home not only does it make your home safer, but makes your home life easier to manage. Our commercial-grade equipment is dependable and durable. We only offer the best when it comes to keeping your home and your loved one's safe. Let Allied provide the best security system for your home, inside and out.
CALL TO SCHEDULE A FREE CONSULTATION AND QUOTE
Allied Home Security is partnered with Brinks to provide you with more than 40 years of security industry experience in Austin. This gives customers award-winning monitoring service is trusted nationwide. Our partnership has really allowed us to be one of the best home companies not only in Austin, but throughout all of Texas. 
Our alarm monitoring services use a cellular connection to the monitoring station, so there's no need for a landline. Also, there is a battery back-up in case of a power outage. Furthermore, we also prevent false alarms by sending notifications directly to your phone, so you can cancel any accidental alarm triggers. Do you already have an existing security system in the home and need monitoring? We will upgrade most existing systems to be compatible for cellular alarm monitoring.
Small Business & Commercial Alarms in Austin, TX
PROTECTING LOCAL BUSINESS
Allied offers you answers for your small business or commercial business. After you go over your business needs with us, we can outline a plan for you to consider. We have automated security that can give your business a great advantage. Our security systems not only keep your business safe, but now your cameras can track helpful patterns in your business. For example, with tracking, you get a better idea of when your customer peak is. Then, you can adjust your hours, employees, and even save energy depending on the activity flow. We show you how to get the best productivity out of your business. Solutions for your business are not limited to just security, there's much more! 
LAST CHANCE!
FREE 4 CAMERA DVR*
MUST CALL TO CLAIM
Austin Security System Installation
Professional Installation & Activation
Allied's cellular based home alarm systems bring you the peace of mind that you need. Austin's residents and business owners put their trust in us as having the best Austin home security system. We use only the latest technology in our equipment. 
Let us get you set up. First, give us a call to set up a time, and one of our security experts. We want to know your exact needs to make sure you get the best possible results. Second, after an evaluation of your property and listening to your ideas, we will assist you in putting a security package together. Then, it's time for the installation process. Finally, we want to make sure you are comfortable using your new system. Our licensed technicians will stay with you until we answer all your questions. 
Even after we leave, you can reach out with any further questions that may arise. We are available 24/7 for you. During these cautious times, we are taking measures to prevent COVID-19 also.
What Local Texans
Say About Us
Allied Austin Home Security & Alarm Monitoring
Rated
4.9
/
5
based on
436
latest online reviews
"Buddy is such an intelligent and respectful man, he knows what he is doing and will take the time to explain to you what he's installing in your home."
"Armoni is awesome. Not too many people I say that about. Very knowledgeable and extremely helpful his personality is perfect, and I feel very comfortable with him."
"I just had an amazing experience with allied home security. Armoni the sales representative was just great, and very helpful in making my experience nothing less than perfect!"
"Great Service Great Deal and an awesome experience Bobby Langley was Great and made everything simple to understand"
"Amazing customer service from Armoni Davis and Aaron Coleman! These two gentlemen are extremely knowledgeable and very helpful. I would definitely recommend them to friends and family."
"Allied Home Security is a pleasant company to work with. I have used them on several occasions for my AC system repair and maintenance. The entire team is outstanding. I will definitely recommend them."
"Armoni was very persistent young man; boxes aren't even unpacked yet! He is also very knowledgeable about the security services Allied offers. I see he has a passion for selling. Great guy you have on your team."
Comparing Alarm Providers in Austin
Texas Local. Texas Proud.
With so many home security companies out there, what makes Allied different from companies like Vivint or ADT? When you compare what other companies offer, their pricing and most importantly, their customer service, you will see where Allied differs. Our monthly costs are far below the national chains. Our $0 installation and $0 activation fee is also something that sets us apart. But, the biggest difference is that we are locally based.
You won't get caught in a long line on hold when you call. We are here in your area with you and know what the community needs. We take your concerns seriously. We are here to bring you solutions to protect your home. Allied is locally owned and can be flexible on the prices to stay within your budget.
About Austin & Local Crime Statistics
Living in a big city has its share of ups and downs. Austin, Texas, has a nice variety of people in its population of almost a million residents.  It is a city made up of a majority of adults having a 4-year college degree. But, along with them is a large group of artists. Blending diversity is what makes this city great. 
But, along with success, there are a few cautions. Austin's real estate has some highest prices in Texas. Unfortunately, that makes it more attractive to intruders. There is a 1 in 28 chance of being a victim of a property crime in Austin. This fact points to the part where Allied Home Security can help you out. Contact us to see how to lower those odds for your home!
About Allied Security
Here at Allied, our mission to put our customers first has resulted in a growing company. We are teamed up with Brinks Home Security to bring more than 20 years of home security experience to protect your home. The BBB has rewarded our dedication to our customers with an A+. We always maintain high standards in caring for you. But along with that, we also make sure we are OSHA compliant and exceed safety guidelines when dealing with our customers and technicians.
Allied brings you everything you need for home security, plus some convenience added in there. We will guide you through choosing the best package for your home and family. If you have any questions about how security systems work or just a question about us as a company, look over our FAQs Page. If there are additional questions, or you don't see what you are looking for, feel free to contact us with a call or email message. We want to hear from you and provide any assistance you need!
Our Process
Allied Home Security has become one of Austin's top home security companies. Our hard work and personalized customer service are what makes us one of the best. We make sure that you always receive high-quality equipment and service. Customer reviews are from the satisfied patrons that we make part of our Allied family. Reviews and feedback are a way that we can make sure our customer service stays top-of-the-line. If there is something you feel we can improve on, we will be quick to take your concerns seriously. We are proud of our experienced staff and high-quality equipment. We want our customers to be safe and not have to cut corners to do so. Being a local security system company, we are here for you when you need us.
Learn More About Our Security & Automation Solutions
Protect your Austin home with an extra set of eyes. You get an immediate response to any alarm sent from your residence. Allied offers a variety of security packages, all with alarm monitoring.
Want to boost your small business productivity and sales? Get more organized? Security systems can now track customer traffic flow. Know when your peak business time is. You can also keep records of when the employees arrive and leave.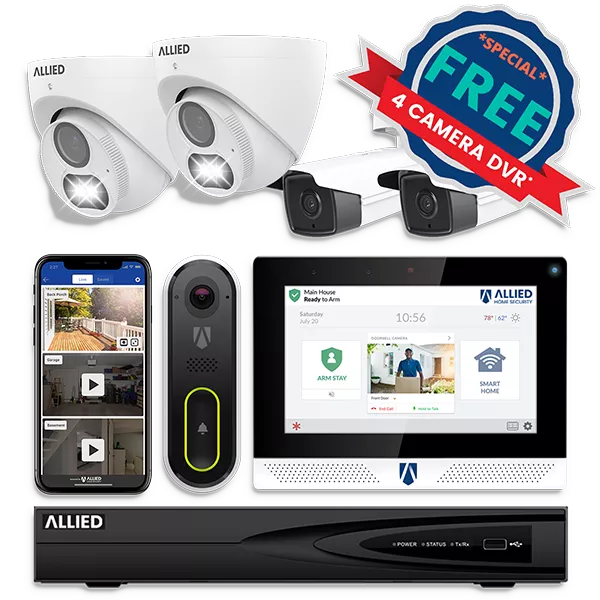 Commercial safety and security are a priority. Allied takes the time to see that each business safety plan is customized to meet that individual industry. We make sure to cover all your bases. Protecting your business is something we take seriously.
Activate Your System Today for Just

$19.95

/mo