How Smart Security Technology Keeps You Safe
The advancement of technology today never takes a break. There is a constant forward movement of learning and improvement, especially in the area of the home security system. When you were young, you may have worn a key on a string around your neck to get in the house after school. Today, you can use an app on your phone to let in your children, or lock up after they leave if they forget. There are endless options as to how you may choose to secure your home. 
Smart Doorbell Cameras
One of the most affordable security measures for our home is the simple doorbell camera. This item is a great way to discourage those package thieves who are becoming more common.  Besides the doorbell, adding some cameras outside your home can be an additional deterrent. Monitoring properties with a camera system is nothing new for the commercial district, but now private homeowners can own the same kind of protection. Video monitoring of the past came with bulky VCR tapes that had to be stored. Improved security monitoring can now be live-streamed or digitally uploaded for future reference.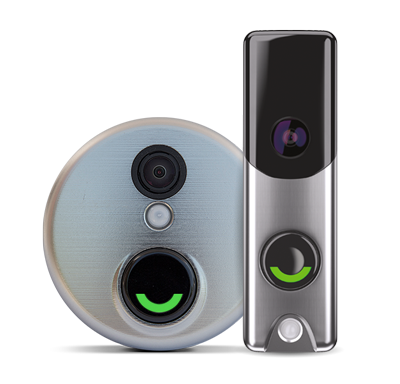 Doorbell cameras and perimeter security cameras are only a beginning. Homeowners can make their homes as smart as they want them to be. As stated previously, you can contact your home to turn off the lights, turn on the alarm, and lock the door. You don't even have to be close to home to do this. Just access your Smart Home with your phone app or computer. Ask for a status report on your house. How are the batteries for the smoke detectors? Set the thermostat to save energy while you are away. When it comes to chores, you're all set. There are now Wi-Fi controlled slow cookers that you can set to turn on before you get home, outdoor grills that keep constant temperatures, and vacuums that clean up while you are away. The possibilities are endless. 
Home Security for the Family
Smart Home technology isn't just for convenience.  Most importantly, it can mean your family's safety. Smoke detectors can automatically call emergency services. Security cameras will alert when unusual activity occurs. Even though these state-of-the-art smart devices seem limitless, surprisingly, they are affordable to most homeowners. Depending on your needs, there is a safety package that, more than likely, you can bring home. Don't let these wonders of technology intimidate you. Do your research and find out what is out there. 
Security Cameras for Protection
Use these innovations to your benefit. Do your best with your circumstances to secure your property and keep your family safe! Even at minimum, just placing a simple doorbell camera at your front door will lower the risk of a crime at your home. Many security companies will use existing devices in your home and integrate extra layers of protection using additional cameras or monitoring. Keep up with technology and make it work for you. You work hard for your family, protect what you have. Don't wait until it is too late. 
Allied Home Security offers top-of-the-line smart home security equipment. Houston's residents trust Allied Security when it comes to protecting their home, just look at their reviews on Google! If you're looking for quality security systems at competitive pricing, call Allied Security Systems today!
Our San Antonio customers click here!