DIY vs Installed Home Security
Many have given serious thought to adding a home security system to their place of residence, but with all the lockdowns, restrictions, and health hazards, they might be hesitant to have workers in their homes. Thankfully, there are options to consider that make it still possible to protect your home. Some security companies offer their best equipment for you to install yourself with the assistance of written instructions, tutorial videos, or live support.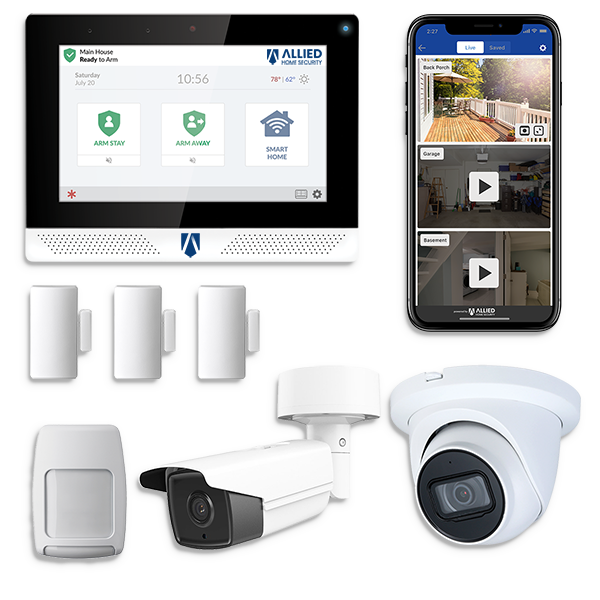 Are They Reliable?
Are the DIY home security systems as reliable as joining a security company? These systems are typically the same equipment that national security companies use. The difference is that you do the installation on your own. You can usually have it up and running in a day with the use of a screwdriver, drill, and maybe a wire stripper. This self-installation could save you hundreds of dollars in installation fees, or, like Allied Home Security, installation is free anyway.  But DIY is preferred by many because they like having control of the decisions, and others may want to limit the outside traffic in their home right now. 
Where do you start? 
Layout a floor plan of your home and note all the entry points. Whether it is windows or doors, you now need to decide if you are going to be installing window and door magnetic contacts, motion sensors, or glass breakage detectors. Write down the number of each of these devices that will cover each entry point. Motions sensors are handy to have, but also remember that they will alert you when intruders are already in the house. Another necessity is the security camera. The camera will also notify you and show what caused the entry point alarm to go off. Camera security includes indoor and outdoor cameras, along with your video doorbell. With these devices, you will always be informed and in control of any activity at your home. Of course, with any DIY home security systems, you can have as much or as little as you want to add to your home. Don't forget the hub panel that works like your smartphone app and will centralize all your security devices into one spot. 
Final Addition
After you have made a floor plan and a list of devices that will best protect your home, you may consider if you would like to have 24/7 alarm monitoring with an outside company. Of course, you will receive any unusual activity alerts on your smartphone, but by the time you view and evaluate, the intruder may be in, out, and already gone. A monitoring service can send emergency responders quickly. Their fees vary according to the specific company. It may be worth the monthly fee to have Allied Security always watching out for you.
Whatever system or devices you choose, if you decide to later enlist the assistance of a company for further security coverage, Allied Home Security is happy to help you. We install new customizable systems that are commercial-grade, or we can activate and upgrade what you already have. Give us a call!