Home Automation Solutions
Home Life is Easier with Allied.
Enter your home and have the temperature set perfectly for your arrival? Have the lights gone up as the sun goes down? Unlock a door via your smartphone? You bet! Allied's home automation systems of Houston can help you bring your home to life with a customized solution that can work with your lifestyle and budget. Not only that, our systems scale and integrate with other platforms, so it grows with your ever-changing needs. Make the most of your home with an integrated solution from Allied. Call now to see what home automation specials we have in your area!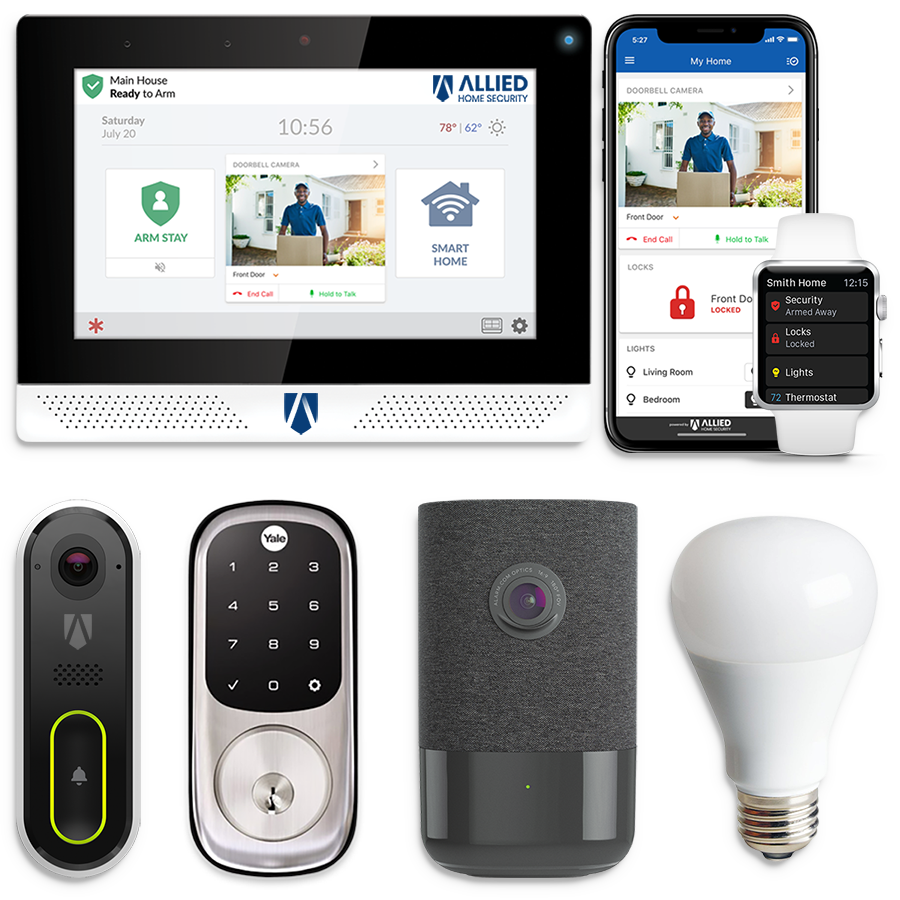 Edge Panel with Built-in Alarm Monitoring
OUR LATEST NEXT-GEN MONITORING HUB
The Edge Panel is the latest when it comes to innovation in the home security industry. With this equipment upgrade, you can monitor, control & protect your home wirelessly and safely. It's smash & crash proof and hack-proof giving you complete peace of mind.
CAMERAS – PICTURE THE POSSIBILITIES
You can view cameras around your home on touchscreens, televisions, tablets, smartphones or PCs. Keep an eye on your kids and pets, screen visitors at your entrance way and view activity occurring around the interior or exterior of your home whenever and wherever you want.
TODAY ONLY!
FREE 4 CAMERA DVR*
INCLUDES APP ACCESS
LOCKS – UNLOCK YOUR HOME'S POTENTIAL
Did your kids forget their keys again? Have a neighbor stopping by to drop off a package? Unlock the door from the comfort of your office—right from your smartphone or PC. You can also have the doors lock and unlock automatically whenever you arm or disarm your security system. The possibilities are endless!
SCENES AND SCHEDULES – SET THE MOOD
Creating scenes and schedules can enhance your lifestyle and help you save money and energy without any change in your daily routine. A "Goodnight" scene could entail having the doors lock and the lights shut off when you arm your security system at night. A schedule might be created to have the porch and hallway lights on and the thermostat set to a specific temperature an hour before you leave the office, so you arrive to a comfortable, well-lit home.
CALL FOR A FREE QUOTE OR SCHEDULE A CONSULTATION
THERMOSTATS – COMFORT AND CONVENIENCE
THE RIGHT TEMPERATURE, EVERYWHERE
Allied Home Security's Home Automation Systems can enable your thermostats to automatically adjust every time you arm or disarm your security system. You can design customized scenes and schedules for comfort and energy savings, or control your thermostats on-the-go via your smartphone. Precise temperature control provides better comfort.
LIGHTING – ANOTHER BRIGHT IDEA
SMART LIGHTING, EVERYWHERE
Turn select indoor and outdoor lights on or off automatically every time you arm or disarm your security system. Tell your system to turn one set of lights on 30 minutes before you get home from work and turn another off an hour after you've gone to bed. You can control your lights from any remote location.
Location-Based Automation
GEO-SERVICES
Have your home automatically adjust when it detects that you've left your home geo-fence, or when you're approaching it. Use Geo-Services to have video monitoring pause for privacy when you're home, or have your thermostat begin adjusting to the right temperature – even before you arrive.
Today only get 4 Cameras For FREE*
Free same day set up.
Rates start at just $19.95/mo
Get Started Today for Just

$19.95

/

mo