Best New Braunfels (TX) Smart Home Security Systems & Alarm Monitoring
Alarm Monitoring Starts at Just $19.95

/mo
Thank You, Customers, For Making Allied the Highest-Rated Company in Texas!
Local Alarm Company
The Best New Braunfels Home Security
With offices in San Antonio & Austin, Allied Home Security is the top New Braunfels provider of home security systems, and professional alarm monitoring services. We offer limitless options for residential home security systems, as well as small business and commercial security packages. Regardless of whether you are seeking to secure your New Braunfels home or business, you can rest assured that maximizing your safety is always our top priority. To that end, all our security packages include police, medical, and fire alarm monitoring.
Get unmatched customer service and price matching guarantees. Rates start at just $19.95/mo, so call us today for FREE same-day setup.
New Braunfels Location – 4100 E Piedras Dr, Suite 205, San Antonio TX, 78228 (210) 361-6993

TODAY ONLY!
4 Camera DVR For FREE*
INCLUDES DVR + APP
Professional Grade Security Cameras
REAL SECURITY
BETTER EQUIPMENT
At Allied Home Security we take immense pride in providing our clients with the very best home security cameras and equipment in New Braunfels, TX. We offer state-of-the-art, commercial-grade cameras to ensure that you are always able to view crystal clear images and videos of both the interior and exterior areas of your home and property, any time day or night.
Better still, our cutting edge technology allows you to get automatic video and still image notifications delivered right to your mobile device when your kids arrive home from school, or whenever someone visits your front porch or other surveilled portion of your property. For instance, you can get automatic notifications when your kids get back home from school. You can even use your cameras to check in on your pets while you are out of the house.
Allied Home Security offers several video surveillance options to fit your unique security needs.
Smart Home Security Systems
SMARTEST HOME ON THE BLOCK
New Braunfels has many home security companies that provide alarm systems and alarm monitoring. What makes us different is our state-of-the-art equipment combined with our certified technicians that install them. Because of this, we offer a variety of different packages and solutions that center around keeping your home safe. All this, from a local company you can trust. Check out our service area.
We are also able to upgrade existing systems if there is already one in the home. Replace your old keypad to an upgraded touchscreen panel while at the same time, we can utilize the existing windows and contacts in your home. All of our home security systems come with a limited free warranty and have a wireless connection to the monitoring station, plus battery back-ups in case of a power outage.
FREE CAMERA & ALARM INSTALLATION
Edge Panel with Built-in Alarm Monitoring
THE ALLIED SMART HOME HUB
The Edge Panel represents the latest and greatest innovation that the home security industry has to offer. The Allied Home Security Edge Panel allows you to monitor, control & protect your home wirelessly and safely. The Edge Panel is smash-proof, crash-proof, and hack-proof offering you complete peace of mind. The Edge Panel allows you to view your various video camera surveillance feeds or communicate with visitors at your gate or front door all from the safety and security of your central dashboard. You can also link up your Alexa, Google Home, or other smart home devices for even greater functionality and convenience.
Activate, Upgrade or Build Your New Braunfels Alarm System
System Packages Start at Just $19.95/mo with $0 Upfront.
CALL FOR A FREE QUOTE OR SCHEDULE A CONSULTATION
New Braunfels Alarm Monitoring
Your home is at its most vulnerable when there is nobody home. Allied Home Security allows you to arm your home security system from anywhere, or set an alarm monitoring schedule that fits your unique needs. Whether you are trying to secure your home from an intruder or automate your house, Allied Home Security we have you covered. You can control your home security system, the locks on your doors, your home thermostat, and much more all from your smartphone, or other internet connected device.
Allied Home Security's partnership with Brinks Home Security provides over 40 years of combined industry experience. As an authorized Brinks Home Security dealer, Allied Home Security has established itself as the best home security equipment provider in New Braunfels, TX.
Business Security Systems
PROTECTING LOCAL BUSINESSES
Allied Home Security offers security equipment and alarm monitoring solutions for all types of businesses, big or small. Allied Home Security will work with you to assess your unique business security needs to determine the best security package for your business.
Allied Home Security video surveillance security systems not only keep your business safe, they can bring your business to a whole new level of efficiency. You may be surprised at how much time and energy savings are possible.
Allied Home Security's state-of-the-art video surveillance cameras can help you track helpful patterns in your day to day business operations. Use your video surveillance to get a better understanding of peak customer flow times and use this new knowledge to adjust your hours of operation, and employee work schedules, or lower your energy costs by adjusting lighting and climate control when the buildings are not occupied by customers. Our team of security experts will show you how to make your business more productive. Go beyond security and see what else Allied Home Security can do for you!
LAST CHANCE!
4 Camera DVR For FREE*
MUST CALL TO CLAIM
Security Camera Installation in New Braunfels , TX
FREE PROFESSIONAL INSTALLATION & ACTIVATION
Are you ready to start enjoying the peace of mind that comes with knowing that your home is safe and secure? Allied Home Security is ready to help!
When you call Allied Home Security we will dispatch one of our professional home security experts to your home or business for a FREE home security system consultation to evaluate your security needs, and help you determine the best home security system solution for you.
Next, our team of certified technicians will install your new state-of-the-art security cameras, and home security equipment. Our friendly team will take the time to show you how your home alarm systems work, and answer any questions you may have about how to operate them.
Allied Home Security will make sure that you are completely comfortable with your home security system before we leave your home. We will answer any questions you may have, and offer FREE on-site security systems training.
Our customer support team is available 24/7 to answer any additional questions you may have about your home security system, billing, or anything else.
We know these are strange times, for more information on how we're dealing with COVID-19, read more here.
What Texans
Like You Say
About Us
Allied San Antonio Home Security & Alarm Monitoring
Rated
4.9
/
5
based on
436
latest online reviews
"Buddy is such an intelligent and respectful man, he knows what he is doing and will take the time to explain to you what he's installing in your home."
"Armoni is awesome. Not too many people I say that about. Very knowledgeable and extremely helpful his personality is perfect, and I feel very comfortable with him."
"I just had an amazing experience with allied home security. Armoni the sales representative was just great, and very helpful in making my experience nothing less than perfect!"
"Great Service Great Deal and an awesome experience Bobby Langley was Great and made everything simple to understand"
"Amazing customer service from Armoni Davis and Aaron Coleman! These two gentlemen are extremely knowledgeable and very helpful. I would definitely recommend them to friends and family."
"Allied Home Security is a pleasant company to work with. I have used them on several occasions for my AC system repair and maintenance. The entire team is outstanding. I will definitely recommend them."
"Armoni was very persistent young man; boxes aren't even unpacked yet! He is also very knowledgeable about the security services Allied offers. I see he has a passion for selling. Great guy you have on your team."
Allied Home Security in New Braunfels, TX
Allied Home Security is a local home security and alarm monitoring company based right here in the heart of Texas. So, how does Allied Home Security stand up against the large national home security companies like Vivint or ADT?
Allied Home Security alarm monitoring and home security packages are priced far lower than the competitors monthly for the EXACT same service. Plus, Allied Home Security offers FREE installation and FREE activation.
Allied Home Security takes great pride in being a local, Texas based home security company. We know the local area, and we know how to provide the protection that our community needs. Allied Home Security offers customized home security solutions to fit your Texas lifestyle.
Other popular cities we service: San Antonio, Balcones Heights, Castle Hills, Converse & other Texas areas!
New Braunfels Location – 4100 E Piedras Dr, Suite 205, San Antonio TX, 78228 (210) 361-6993
Learn More About Our Security & Automation Solutions
Allied Home Security Smart Home Security Systems safeguard your home and family with 24/7 police, medical, and fire alarm monitoring and industry-leading emergency response times.
Allied Home Security offers the best business security systems in the country. We not only help protect your small business, but we also help to improve it. Track customer flow, monitor employee activity, and more.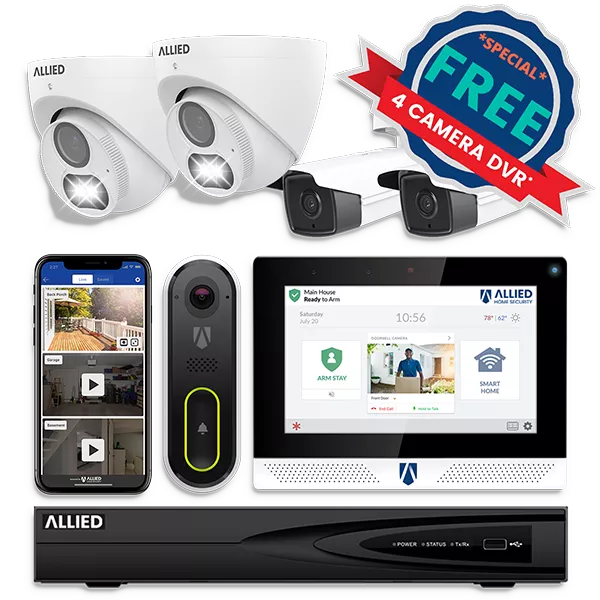 Allied Home Security offers a wide range of commercial security systems that are designed with your company's safety and protection in mind. We take commercial security very seriously, and understand each industry has its own set of requirements and risks.
Activate Your System Today for Just

$19.95

/mo