Arlington (TX) Smart Home Security Systems & Alarm Monitoring
Alarm Monitoring Starts at Just $19.95

/mo
Thank You, Customers, For Making Allied the Highest-Rated Company in Texas!
Local Arlington Home Security Company
Best Equipment. Best Service.
Allied Home Security is proud to be the best home security system provider and alarm monitoring company in Arlington. From home security systems, to alarm monitoring service, Allied Home Security has you covered with limitless options when it comes to protecting your Arlington home.
Allied Home Security offers more than just home security, we also provide full-featured security systems, and alarm monitoring service for your Arlington business or commercial property.
Your safety is important to us! That is why all Allied Home Security packages include police, medical, and fire alarm monitoring 24 hours a day, 7 days a week, 365 days a year.

TODAY ONLY!
4 Camera DVR For FREE*
INCLUDES DVR + APP
Professional Grade Security Cameras
REAL SECURITY
BETTER EQUIPMENT
Allied Home Security is proud to offer the very best home security cameras and equipment in Arlington, TX. We provide state-of-the-art, commercial-grade cameras to ensure that you are always able to view crystal clear images and videos of both the interior and exterior areas of your home and property, any time day or night.
Our cutting edge technology allows you to get automatic video and still image notifications delivered right to your mobile device when your kids arrive home from school, or whenever someone visits your front porch or other surveilled portion of your property. For instance, you can get automatic notifications when your kids get back home from school. You can even use your cameras to check in on your pets while you are out of the house.
Better still, our home security options won't bust your budget. Why pay for security equipment, or features that you won't use? Our custom smart home security solutions can be tailored to provide you with the perfect security system for your unique needs. If you are looking for a local Arlington home security and alarm monitoring company, you can't miss with Allied Home Security.
Smart Home Security Systems in Arlington, TX
SMARTEST HOME ON THE BLOCK
Allied Home Security offers a wide range of security systems that allow you to customize each of our packages to fit your unique security needs. What's more, when you integrate devices like Google Home, Alexa, and other third party smart devices you can get even greater security and convenience.
We promise, our commercial-grade equipment is the best you will find in Arlington. We never cut corners when it comes to securing your home and keeping your family protected. Let Allied Home Security design the very best security system to cover you.
We can even upgrade your home's existing security system by replacing your old keypad with a new touchscreen security hub. All of our home security systems are linked through an always up wireless connection to the monitoring station, and we include additional battery back-ups so your home remains secure even when the power goes out.
FREE CAMERA & ALARM INSTALLATION
Edge Panel with Built-in Alarm Monitoring
THE ALLIED SMART HOME HUB
The Edge Panel is the latest when it comes to innovation in the home security industry. With this equipment upgrade, you can monitor, control & protect your home wirelessly and safely. It's smash & crash proof and hack-proof giving you complete peace of mind. This hub also integrates with most smart home devices like your Alexa or Google Home hub. You can also view your cameras and answer the front door all from the hub.
Activate, Upgrade or Build Your Arlington Alarm System
System Packages Start at Just $19.95/mo with $0 Upfront.
At Allied Home Security, we carry only the highest quality equipment. We use commercial-grade security equipment for all of our security system packages regardless of whether you will be securing your residence or business property. This means that you can rest assured that you are always getting top-rated devices for the best possible security to protect your home.
Allied Home Security takes care to stay on top of the latest and greatest technology and advancements in the security industry, and our stock is consistently updated to ensure that we are always able to offer our clients the newest devices as soon as it becomes available on the market. If you see a newer version of your equipment on our site, we are always happy to provide you with an upgrade at any time.
We have a variety of video cameras and control panels, along with other security devices that integrate seamlessly with your smart home devices for a true smart home experience. Best of all, you can easily manage all of your smart home devices, along with your security system with one simple smartphone app.
With the integrated app, you can monitor what is going on at home, and make any needed adjustments to your home's security system from anywhere, at any time.
CALL FOR A FREE QUOTE OR SCHEDULE A CONSULTATION
Arlington (TX) Alarm Monitoring
It is no secret that those wishing to target your home will often do so when nobody is there to protect it. Allied Home Security offers you a convenient way to arm your system from anywhere, or you can program your system to follow a schedule that fits into your everyday routine. When you can't be at home to keep a watchful eye, you can enjoy the peace of mind of knowing that our local alarm monitoring team has you covered.
Allied Home Security's partners with the alarm monitoring service of Brinks Home Security to provide over 20 years of combined industry experience. As an authorized Brinks Home Security dealer, Allied Home Security, our team has built a strong and trustworthy name in the Arlington area. We only partner with the best to keep you and the family safe.
Business Security Systems
PROTECTING LOCAL ARLINGTON BUSINESSES
Allied Home Security offers custom security systems for all types of business and commercial properties. Our team of security experts will work with you to assess your unique business security needs to design the best security package for your business.
Allied Home Security video surveillance security systems not only keep your business safe, they can bring your business to a whole new level of efficiency. You may be surprised at how much time and energy savings are possible.
Allied Home Security's state-of-the-art video surveillance cameras can help you track helpful patterns in your day to day business operations. Use your video surveillance to get a better understanding of peak customer flow times and use this new knowledge to adjust your hours of operation, and employee work schedules, or lower your energy costs by adjusting lighting and climate control when the buildings are not occupied by customers. Our team of security experts will show you how to make your business more productive. Go beyond security and see what else Allied Home Security can do for you!
LAST CHANCE!
4 Camera DVR For FREE*
MUST CALL TO CLAIM
Security Camera Installation in Arlington, TX
FREE PROFESSIONAL INSTALLATION & ACTIVATION
Allied Home Security is ready to help you achieve the peace of mind that comes with knowing your home is secure and protected. We make it easy to get all the home security that you need for your Arlington home. Our customers trust us to keep them layered in security to protect their families.
As soon as you reach out to us, a local Arlington arean Allied Home Security security specialist will head over to your home or business to evaluate your property in order to make sure you get the best security system package for you.
Our expert technicians will install all of your new cameras and security equipment, and take the time to walk you through the ins and outs of how your new home security system functions. Our technicians will be happy to answer any questions you may have regarding your new security systems features, and functions. Our goal is to ensure that you are comfortable using your system before they leave. Of course, the Allied Home Security support team is always available to address any questions, or concerns that may arise after you begin using your system.
What Texans
Like You Say
About Us
Allied Home Security's hard work and personalized customer service has made us one of Arlington's top home security companies. Allied Home Security carries only the highest-quality equipment, and our friendly customer specialists know how to provide the dedicated service you need. Reviews and feedback from customers like you let us know how we are doing. We are proud of our happy customer reviews, and we always take the time to address any concerns voiced by our customers.
Allied Home Security is proud of our experienced staff and high-quality equipment. Our mission is to provide home security systems and services that exceed your greatest expectations. Since we are a local company, we are close by when you need us.
Allied San Antonio Home Security & Alarm Monitoring
Rated
4.9
/
5
based on
436
latest online reviews
"Buddy is such an intelligent and respectful man, he knows what he is doing and will take the time to explain to you what he's installing in your home."
"Armoni is awesome. Not too many people I say that about. Very knowledgeable and extremely helpful his personality is perfect, and I feel very comfortable with him."
"I just had an amazing experience with allied home security. Armoni the sales representative was just great, and very helpful in making my experience nothing less than perfect!"
"Great Service Great Deal and an awesome experience Bobby Langley was Great and made everything simple to understand"
"Amazing customer service from Armoni Davis and Aaron Coleman! These two gentlemen are extremely knowledgeable and very helpful. I would definitely recommend them to friends and family."
"Allied Home Security is a pleasant company to work with. I have used them on several occasions for my AC system repair and maintenance. The entire team is outstanding. I will definitely recommend them."
"Armoni was very persistent young man; boxes aren't even unpacked yet! He is also very knowledgeable about the security services Allied offers. I see he has a passion for selling. Great guy you have on your team."
Arlington Home Security Companies
Allied Home Security continues to grow by putting its customers first. Our commitment to our customers has earned us an A+ rating with the BBB, we will continue to work hard to maintain our high ranking. Our standards remain high as we continue to look for ways to improve our care for you. At Allied Home Security, we settle for meeting the bare minimum safety regulations. We actually exceed OSHA safety guidelines, because the safety of our expert technicians and staff is just as important as the safety and security of our clients.
Crime In Arlington, TX
Arlington, TX has a population of more than 400,000 residents. As a large city, nestled just outside the bustling Dallas/Fort Worth metropolitan area, crime can be an issue in some areas. Fortunately, Allied Home Security can help keep your family safe no matter where you live in the Arlington area. With today's home security devices, you can outfit your home with devices that can be monitored 24/7. Call us today to find out how to protect your Arlington home today.
Learn More About Allied Home Security
Do you have questions about how Allied Home Security systems work?
Would you like to know more about Allied Home Security as a company?
Check out our FAQs Page to learn more. If you have other questions, or your question was not answered, feel free to give us a call, or email us message. We are here to provide any support you need, and we look forward to hearing from you!
Comparing Home Security Companies
What makes Allied Home Security stand apart from the bigger national companies? Let's start with the bang for the buck. Allied Home Security offers the highest quality equipment for far less than our competitors typically charge, and our alarm monitoring rates are far lower than those of the national chains. Additionally, Allied Home Security always offers FREE installation and FREE activation, something you will not find through the national home security companies.
Our customers like that we are locally based right here in Texas. We won't make you jump through hoops, or wait on hold waiting to connect to a live operator, and our local team is familiar with the Arlington area and all of its unique security concerns. We know your concerns are real and take them seriously. Because Allied Home Security is locally owned and operated we are able to offer the flexibility to work with any size budget. Your safety is our chief priority.
Learn More About Our Security & Automation Solutions
With Monitored Arlington Home Alarm Systems, you will get an industry-leading emergency response in seconds. All packages include 24/7 alarm monitoring for your home and property.
Our Small Business security systems are the best in the country. We not only help protect your small business, but we also help to improve it. You can now track when visitors come and go, or even when your employees arrive and leave.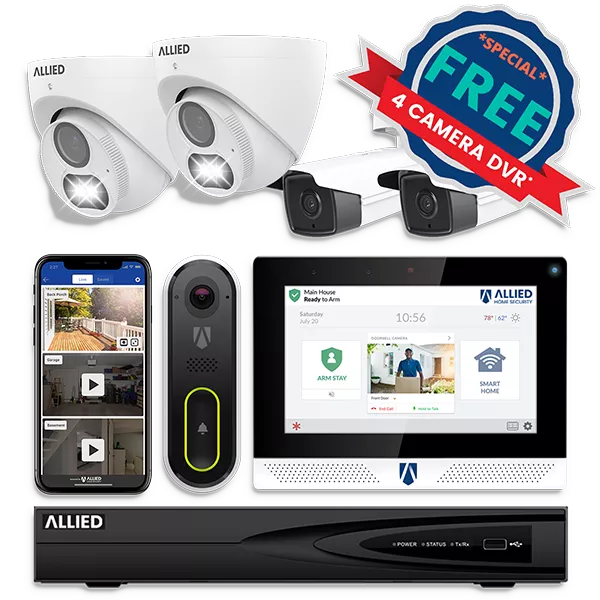 Allied offers a wide range of commercial security systems that are designed with your company's protection in mind. We take commercial security very seriously and understand each industry has its own set of requirements and risks. Our custom plans for security systems are tailored to fit your commercial business needs.
Activate Your System Today for Just

$19.95

/mo