Kwikset Push Button Lock
The Kwikset push-button lock with Home Connect technology lets the deadbolt lock connect with other devices in the smart home wirelessly. In fact, this lock allows the user to check the door lock status wherever you may be. Also, you can lock or unlock the door and receive alerts, no matter where you are. This lock is a 1-touch locking motorized deadbolt. With your unique PIN code, you can enter your home with the convenience of keyless entry. The back-lit keypad provides better visibility. The Kwikset push-button lock is easy to install, program and use, and operates on 4 AA batteries.
In addition, the Kwikset push-button lock also features SmartKey Security as the back-up keyway. This single cylinder deadbolt can be locked or unlocked by using the keypad or key. Manage the deadbolt from the outside as well as the turn button from the inside. The crisp, clean appearance adds to the overall look of the product and gives it a modern feel.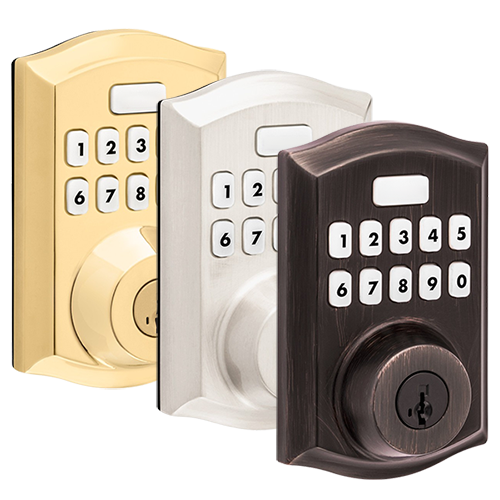 Features
Electronic Touchpad Deadbolt with Home Connect

Use PIN codes or key

Receive texts or emails for your door lock status

Re-key your lock quickly without taking it off the door

BumpGuard gives better security against lock bumping

Lock the door with a single touch 

Use a smartphone to receive lock status and alerts

Up to 30 programmed user PIN codes

Motorized deadbolt using 4 AA batteries
CALL FOR A FREE QUOTE OR SCHEDULE A CONSULTATION