BEST PLANO SECURITY SYSTEMS
& ALARM MONITORING
Alarm Monitoring Starting at $19.95

/mo
Thank You for Making Allied the Best in Plano Home Security Companies!
Local Home Security Company
Best Alarm Company in Plano
Allied Home Security is one of the top alarm system installation and monitoring companies in Plano, TX. Our selection of options when it comes to security systems for homes, small businesses, and commercial buildings are endless. In addition, all of our security packages include police and fire alarm monitoring. Have you thought about adding some automation to your security system? In fact, a complete smart home security system brings out the best in your home's protection.
We are proud of our superior customer service. Also, we offer price matching guarantees. Our rates start at only $19.95/mo. Call us today for FREE same-day installation. 

TODAY ONLY!
4 Camera DVR For FREE*
INCLUDES DVR + APP
Commercial-Grade
Home Security Cameras
BEST EQUIPMENT
24/7 MONITORING
Allied carries the best home security cameras in Plano. Notably, these state-of-the-art commercial-grade cameras make sure nothing goes unseen. You receive crystal-clear images of your home and property, inside and out. No need to worry about the kids coming in from school when you see them arriving through your cameras. Is someone on the front doorstep? With your video doorbell, you not only see the visitor but also can have a two-way conversation with them. 
Plus, we have a variety of different video surveillance options. At Allied, we consider your budget too. Allied Home Security is the local Plano security company to put your trust in. We know what it takes to keep you safe.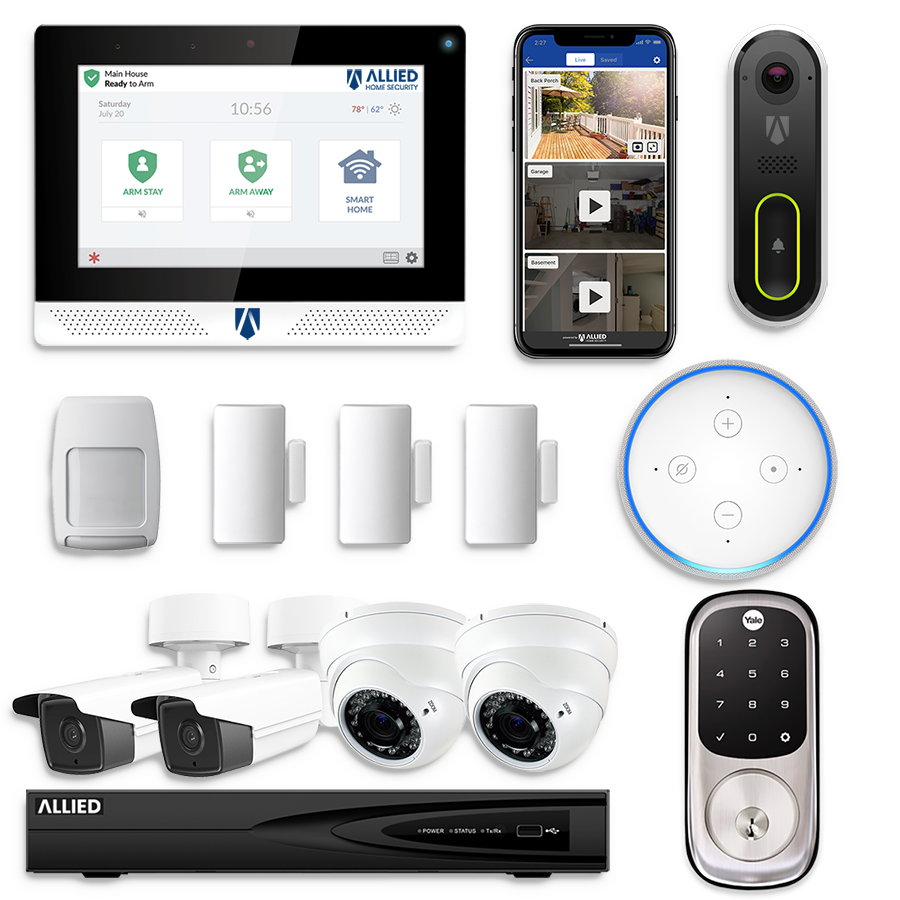 Smart Home Security Systems
CONNECTED ALARMS & HOME AUTOMATION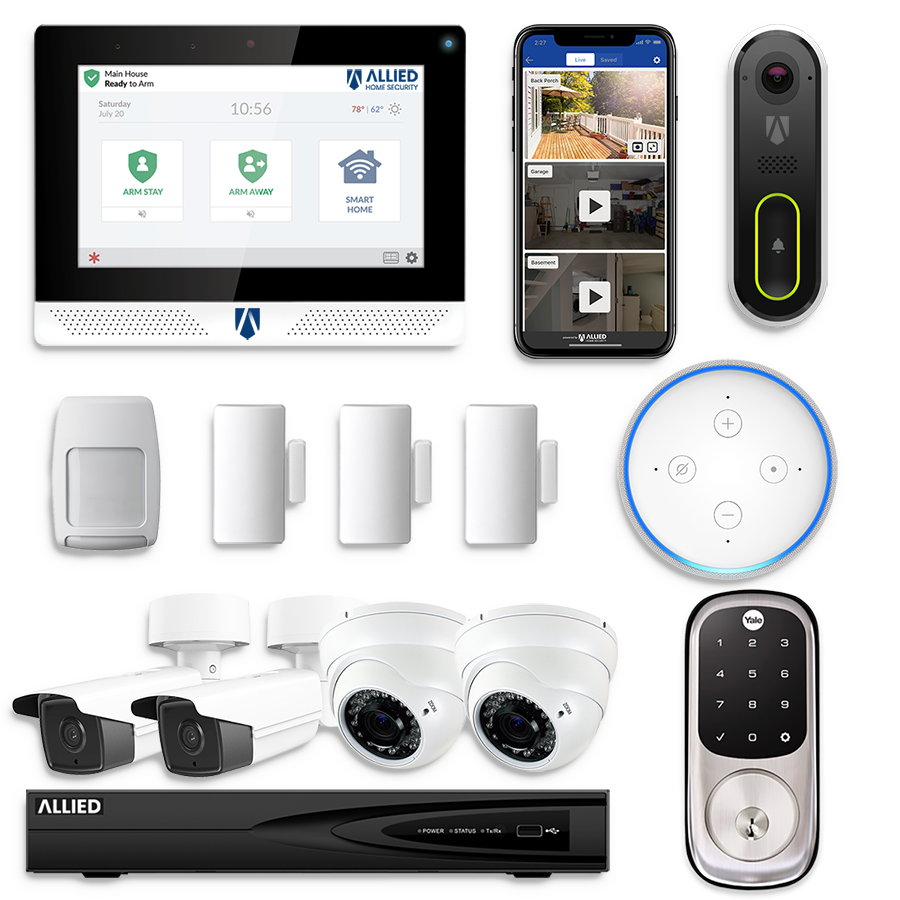 There are several companies where you find home security systems and alarm monitoring in Plano. However, Allied Home Security stands above the rest. We maintain this standing by only using the latest technology in our commercial-grade equipment. At Allied, our highly-trained technicians install these systems to cover you the best way possible. Also, we carry different security packages and solutions that have the main purpose of keeping your unique home and family safe. All this from a local company that has earned the trust in your community. 
In addition, if you already have an existing security system in the home, we assess them for compatibility to activate. Some systems need a simple keypad upgrade. Window and door contacts, more than likely, can still be used. Wireless systems are used to connect to the monitoring station. Plus, a battery back-up is included in the event there is a power outage. Our new home security systems come with a limited FREE warranty. 
FREE INSTALLATION OF CAMERAS AND ALARM
Home Alarm Systems Designed for You
System Packages Start at $19.95/mo with $0 Upfront
Allied Home Security only carries the highest-quality equipment to make your security package. Even though it's for your home, we use commercial-grade equipment in order to ensure reliability and quality. You only get the best devices from us to protect your home and family. We keep up with the latest equipment and make sure it stays in stock. If you see a newer item that you use in your security system, you may upgrade it at any time. We keep a variety of control panels, video cameras, and other devices available to you.
Gradually add those smart home pieces you put on your wishlist. Soon, your home will appear to run itself. Your smart home app lets you stay in control of your security system and its smart home devices. With mobile access, you see what is going on at home no matter where you happen to be. Also, it lets you make adjustments to any connected devices at home as needed. 
CALL TO SCHEDULE A FREE CONSULTATION AND QUOTE
Award-Winning Alarm Monitoring
INDUSTRY LEADERS
IN PROTECTION
When no one is at your house, it becomes more of a target for intruders. However, alarm monitoring eliminates this issue. When your security system is monitored, someone is watching over it 24/7. If you have a smart home, even better. With your smartphone, remotely control your system, locks, cameras, and more. 
Allied Home Security teams up with a nationwide alarm monitoring station. Brinks Home Security brings 40 years of security experience to our customers. Allied is an authorized dealer of Brinks Home Security. As a result, we have made a name for ourselves as a leader in home security across the Plano, TX area. 
Business Security Systems
PROTECTING LOCAL BUSINESSES
Allied Home Security takes care of businesses too, big or small. For this reason, we help analyze your business along with you and together design a plan for the best security package. Furthermore, having automated security brings you into a whole new area of efficiency. In fact, it is surprising how much time and energy savings are out there.
Your video surveillance security system not only keeps your business safe, but your cameras detect different patterns in your business. For example, with tracking analytics, you see your peak customer flow time. Knowing this allows you to adjust your business hours, employees and even save on your energy costs. As a result, start planning your business around the data of activity that gets recorded. We show you how to save with your business decisions. Allied gives you more than just security we help your business to grow. Give us a call, and see what else we can do for you!
LAST CHANCE!
4 Cameras For FREE*
MUST CALL TO CLAIM
Texas Home Security Systems for Plano
FREE PROFESSIONAL INSTALLATION
AND ACTIVATION
Allied Home Security helps you secure your home for peace of mind. We make the experience of choosing alarm systems a positive one. It becomes a simple process with a Plano company you can trust, Allied. 
Your first contact is with a local Allied security specialist that analyzes your home. They conduct a complete home security systems consultation. You receive the best possible plan for the best security package to fit your home, family, and lifestyle.
Next, certified technicians install the security devices in and around your home. After the installation, they walk you through the usage of your new security system and its different hardware. They stay with you until they have answered all your questions, and you are happy with the service. Feel free to call us at any time in the future with any additional concerns about your home security system.  
Because we are living in uncertain times at the moment, we have set up a protocol concerning COVID-19 of which you can read more about. 
What Local Texans
Say About Us
Allied Home Security lists as one of Plano's top home security companies. Our good reputation is a result of our hard work and personalized customer service. In addition, we only carry the very best quality of equipment and service to protect your home and family. Our helpful customer service experts are trained to listen to you and get your home the exact service it needs. We count on the help of your reviews and feedback to let us know how we are doing. We take these reviews seriously and see what we do well while addressing where you may have concerns.

Allied Home Security
Rated
4.9
/
5
based on
222
latest online reviews
"Buddy is such an intelligent and respectful man, he knows what he is doing and will take the time to explain to you what he's installing in your home."
"Armoni is awesome. Not too many people I say that about. Very knowledgeable and extremely helpful his personality is perfect, and I feel very comfortable with him."
"I just had an amazing experience with allied home security. Armoni the sales representative was just great, and very helpful in making my experience nothing less than perfect!"
"Great Service Great Deal and an awesome experience Bobby Langley was Great and made everything simple to understand"
"Amazing customer service from Armoni Davis and Aaron Coleman! These two gentlemen are extremely knowledgeable and very helpful. I would definitely recommend them to friends and family."
"Allied Home Security is a pleasant company to work with. I have used them on several occasions for my AC system repair and maintenance. The entire team is outstanding. I will definitely recommend them."
"Armoni was very persistent young man; boxes aren't even unpacked yet! He is also very knowledgeable about the security services Allied offers. I see he has a passion for selling. Great guy you have on your team."
Allied Home Security continues to grow as we put our customers first. Being partners with Brinks Home Security gives you over two decades of security experience protecting your home. The BBB credits us with an A+, and we work hard daily to keep it. For this reason, keeping our high standards is maintained as we continue to look for ways to improve your care and safety. We don't just settle for the standard, we go above and beyond when complying with OSHA  and exceeding their guidelines. We work to keep our customers safe, along with our technicians and staff.
About Plano and Local Crime Statistics
The Plano, TX area has a population of over 285,000 residents. Of course, being in such a large, thriving area, there is sure to be a percentage of crime that arises. Statistics rate the odds at 1 in 59 that a resident in Plano will become a victim of a property crime. Thus, in order to try and keep you out of that statistic, Allied Home Security shows you what is needed to stay safe.
Today's home security devices set up your home with cameras and sensors that can be monitored 24/7. Never feel like you have to be one of the statistics. Call us today to find out more about how to keep your home and family safe.
Why Choose Allied?
Get Started Today for Just

$19.95

/mo
About Allied Security
Allied Home Security will work alongside you to find the perfect home security system that fits your home and will keep you safe. Do you have questions about how a security system works or want to know more about Allied as a company? Take a look at our FAQs Page to learn more.  Additionally, if you have other questions, or you don't see what you were looking for, give us a call or email message. We are here to provide any assistance you need, and we look forward to hearing from you!
Comparing Home Security Companies
Allied Home Security only uses the best alarm monitoring in Texas for its customers. Relying on these UL-certified monitoring stations ensures you get the fastest response time to your emergency alerts, keeping your family safe. Our security packages use the latest technology to keep you in control of your home. Remotely manage your home security system from anywhere you may be. Same-day installation is also included at no extra fee. 
Our highly-trained technicians in Plano, TX install all of your equipment so that no blind spot is left. After it is installed, they will provide you with FREE training on the proper usage of your new system. Our cellular monitoring comes as a standard feature. This keeps you safe even where you have an internet outage. The cellular connection keeps you in touch with your monitoring station. To be sure, we want our Plano families to stay safe, no matter what. 
Also servicing popular cities surrounding Plano, Texas: McKinney, Frisco, and Dallas
Solutions Offered by Allied Home Security
Using our 24/7 alarm monitoring always ensures an extra set of eyes watching over your home when you are away. Alarms that get triggered at your home result in an immediate response. Allied has four security packages with monitoring you can customize.
Business security systems are more than just alarms. In fact, your cameras assist in boosting your sales and productivity. The customer traffic patterns are monitored and analyzed to find your peak flow time. As a result, this allows you to plan your efficiency. It also tracks your employees coming in and out.
Allied considers your commercial safety and security seriously. We are aware that your business has its unique needs that need to be covered. We watch out for your business, employees, and customers when it comes to keeping them safe. Find out more about what we can do for you.
Activate Your System Today for Just

$19.95

/mo